As our natural and man-made resources are becoming scarce and more valuable, forward-thinking communities are looking for ways to balance economic growth and environmental responsibility.
Resource Recovery Recycling Ltd.'s mission is to help our country maximize its resources, minimize waste and provide a pathway to the goal of a Zero system waste in Belize.
As our towns and cities grow economically, business activity and consumption patterns drive up solid waste quantities. Solid waste in Belize will increase over the next decade. A recent study produced for the Solid waste management Authority suggests our population will double by 2030.  We need to manage how this waste stream is handled and processed. 81 % of all garbage is made of recyclable and biodegradable materials.
The returnable container law, enacted in 2009 only covers beverage containers. This law does not include the many other imports that are also packaged in plastic. These include foodstuffs, detergents, grooming products, lubricants, cleaning solutions and beverages.
Therefore the present recycling effort represents only 10% of recyclable containers that are imported into the country, and only a small percentage of those containers are redeemed for recycling. The majority of these containers will end up in our country's landfills. There are approximately 1 million beverage containers discarded every month. Physically that's about 40 container loads. The aim is to bring together both the private and public sectors to ensure sustainable solid waste management systems and develop more resource recovery solutions.
Our objective at Resource Recovery Recycling Ltd. is to develop an environment for recycling and encourage our government to expand our laws to include all plastic containers imported into and manufactured in Belize.
RRR Ltd's proposal to enact this is to incentivize the end user to return the recyclable container to Authorized Recycling Depots (ARD) which will be conveniently located in each district.
All recyclable containers and preforms will pay a recycling fee upon entry into the country and these monies will be put into a fund to support the recycling effort for the country .This fund can be managed by a government approved agency. This agency will disburse payments from the recycling fund to the ARD's for collections received. Revenues for the fund will come from recycling fees and unredeemed deposits.
Local Brand Owners (i.e. Big H, Bowen, Davees) and importers
(K H Menzies) are responsible for the environmental recycling fee.
This fee must be paid before goods are released for sale. The importer will in turn recover this fee upon the sale of the goods. This fee is then passed to each subsequent purchaser of the goods and the end user redeems the fee when the container is returned to the ARD. The ARD in each district will collect and sort the plastic containers for transport to the Resource Recovery Center.
Four container loads of condiments come into the country every month. Physically that's an 8ft X 40ft X32ft high structure. In one year that structure is 96ft wide X 40ft deep X32ft High. That's one commodity for one year.
This is an industry led programme and will be of no cost to the government and people of Belize. It will generate income for collectors of recyclables.
The ARD's expenses will also need to be refunded from the recycling fund as they collect. These expenses include Deposit Refunds, handling fees and administration costs. As recyclables are returned to the ARD's for collection at various rates and as some containers will be destroyed or go to the landfill .There will be approximately 30% of the fund unredeemed. Now we currently recover only a small portion of recyclables. This figure will gradually increase as the programme gets under way. Part of the monies from the fund will be used to educate the public and especially school children of the recycling process and the importance it plays in their future careers and how it will affect our nation's future.
The benefits of expanding the collection of recyclables from only beverage containers will have an immediate impact for the entire country of Belize.
The Environmental benefits brought about by diversion of recyclable waste from the landfill and extending the longevity of the landfill, reduce in green house gas emissions and reduce ecosystem toxicity.
Human health will benefit by reducing airborne pollutants from burning plastic waste that cause cancer and respiratory ailments putting less burden on the health system.
The social impact benefits are the new employment opportunities that will be created in all districts. This will enhance the governments Restore Belize programme that has identified the need for employment and provide jobs at all levels. The ARD's will need sorters, supervisors and managers to oversee the process from start to finish. In addition recyclers will have more material to bring to the ARD's .This will provide an income for more families.
The tourism market will benefit by having a pristine product to showcase to the world. No clogged up rivers and streams, no litter on the beaches and in the sea, jungle paths and archaeological sites free of refuse .Tourists will be impressed by our efforts to preserve our country and the environment.
Our children, the next generation of Belizeans will enjoy a healthier, cleaner and more sustainable Belize.
The Current Recycling System. July 2011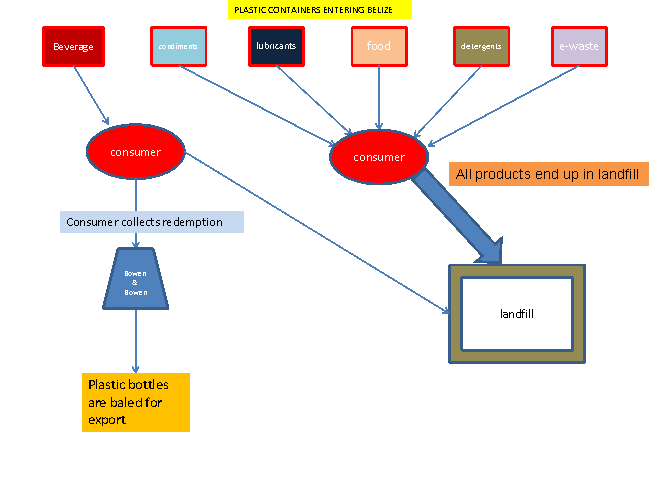 New Expanded Recycling Process