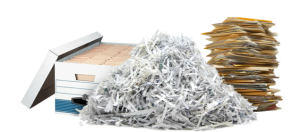 Resource Recovery is the right solution for you providing a more affordable alternative to document destruction.
Offsite shredding services help you dispose of paper documents without the need to maintain an in-house shredding operation. We accept all types of paper including bond, magazines, newspaper and glossy stock. We even can shred all paper clips, staples, bull-dog clips, CD's and floppy disks too.  Our powerful shredder does the work.
Your confidential materials and out of date files are kept secure at all times.  Our chain-of-custody process and reliable service, provides secure, efficient confidential offsite shredding services at an affordable price.
Off-site shredding is a secure, convenient, and reliable way to safely dispose of your confidential documents and data. Resource Recovery uniformed drivers will arrive at your facility, collect the material to be shredded, and transport it directly back to our secure facility.  Our high capacity, high speed shredders at our plant enable us to operate this service at a lower cost.
Resource Recovery offers lockable containers for the safe storage of confidential and sensitive waste.  We provide a secure process, every step of the way for your sensitive information from the time the documents go into your locked consoles to the time they are securely shredded and recycled into paper products.  All documents and digital media entrusted to Resource Recovery are destroyed within 4 hours of arrival at our facility.
How Offsite Shredding Works:
Efficient Pick-ups:  With flexible scheduling,  Resource Recovery will come to your location and pick up your shredding with little disruption to your business.  We will adjust your pick-up schedule to ensure no overflow during high volume times for your business.  The shredding is transported to our locked trucks.  We'll shred your papers at our secure facility and provide a total weight.  Once the shredding is complete, you'll receive a Certificate of Destruction for all material processed as soon as it has been destroyed.  Your shredded paper is recycled where it will then be turned into new paper products.
Resource Recovery helps companies minimize liability, build safeguards to identity theft by providing shredding services that track and document every stage of the process.  Service includes:
Certificate of Destruction
Office clean out and/or purges
off-site document destruction
Yearly bulk purges
off-site media destruction
Product destruction
Warehouse based services
Programs/Equipment
 What Should be Shredded?
Here are some examples of sensitive documents we shred for our clients.
Invoices
Research data
Brand data
Ingredients or process list
Purchase orders
Financial reports
Internal memos
Customer and prospect lists
Receipts
Bills of lading
ATM receipts and bank statements
Birth certificate copies
Cancelled and voided cheques
Credit card bills, carbon copies, summaries, reports, histories and receipts
Driver's licenses or items with a driver's license number
Employee pay stubs and employment records
Legal documents and tax forms
Papers with a social insurance number
Utility bills (telephone, gas, electric, water, cable TV, internet)